Post by twoton on Aug 27, 2007 17:14:45 GMT 7
The second and last field trip took us all over creation (apologies to the evolutionists in the audience, it's just a figure of speech). In the morning we first traveled to an very limestoney area near the Fairy Caves at Bau, where those amongst us blessed with military-strength binocs and tele lenses (read: not me) could admire the various
N. northiana
plants hanging from the cliffs above us.
After staring for 20 minutes at the plants dangling 100 feet above us, we wrenched our necks back into default position and took off to the second northiana site. There, the plants were much more accessible, as they grew on the ground. Alas, one of the three plants had been ripped off the morning before - the poachers had only left a leaf with a dried pitcher. Picrophyll has shown one of the remaining two plants in all its glory in another thread, but I'll show it here anyway, just for completeness' sakes.
The whole plant, with an adult biped for scale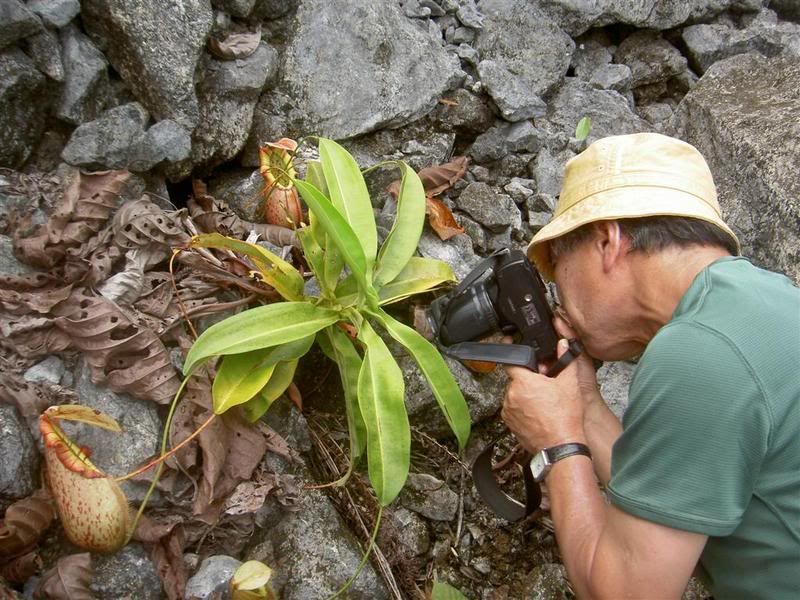 Then it was off to a very lovely swampy area with loads of interesting erosion.
Forgot the name of this, but I think the leaves are used to wrap food.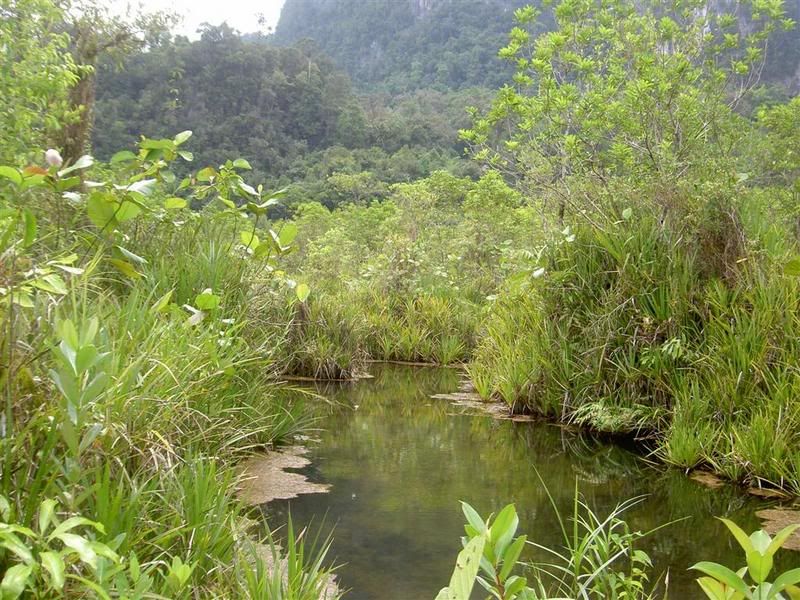 A local farmhouse. There was a prize-winning pomelo tree in their front yard, with fruit so humongous they were bending the branches all the way to the ground. Sadly, the farmer didn't want to sell them. Sniff....
Our object there was to visit a few "northiana hybrids", and although I was in dreadful anticipation of being dragged all the way out there just to look at a bunch of x mirandas, I soon discovered that was not at all the case. Instead, we found this:
N. x bauensis
(northiana x gracilis)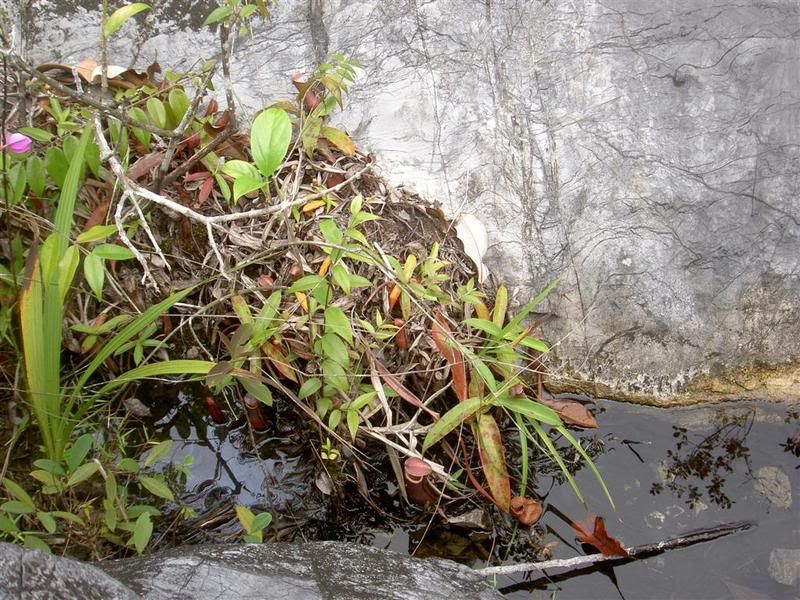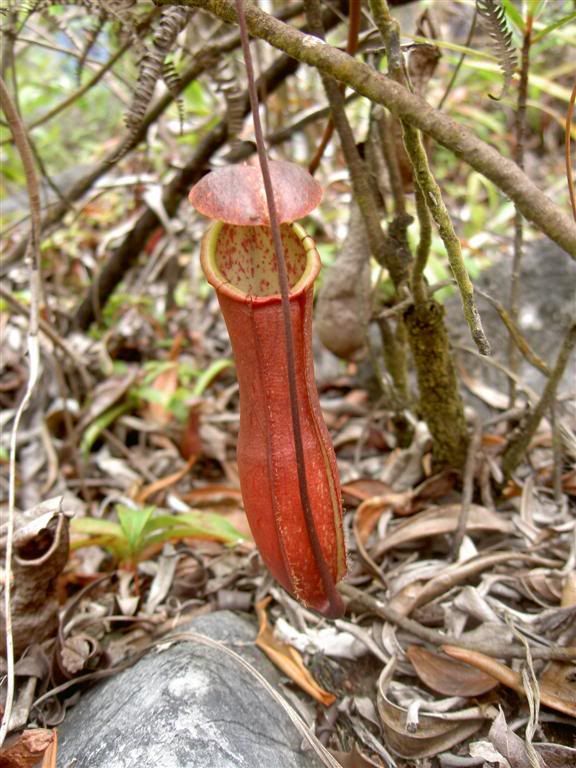 There was also a very fine specimen of mirabilis x northiana (northiana x mirabilis?), but I couldn't reach it, as the path to it led over treacherous ground. A few of the more adventurous folks took pictures of that, and lemmetellya, that was one fantastic plant. Hope it'll get posted here soon!
For lunch, we rode over to the Padawan Pitcher Plant and Orchid Garden. The pitcher plants and orchids there were nothing to email home about, but they did have interesting signage...
..and they had THIS. The fattest raff I encountered on the whole trip. One guy held his cell phone above the pitcher for scale, but it fell into the pitcher before his buddy could take a picture. The New Gunkorola Smell Phone!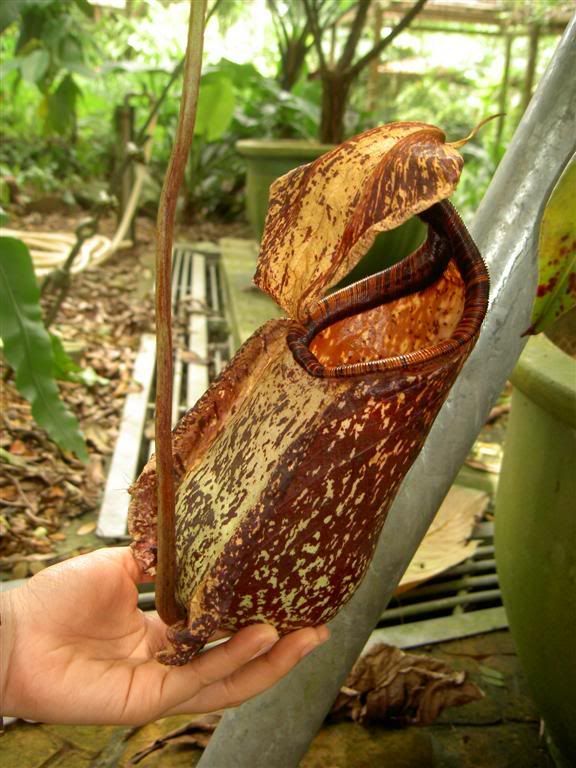 The afternoon found us wandering around in a kerangas forest tightly packed with bicalcaratas. This was definitely the highlight of the entire trip for me (apart from the ant plants and the food). Some of these pitchers reached the size of a small coconut, and they were EVERYWHERE.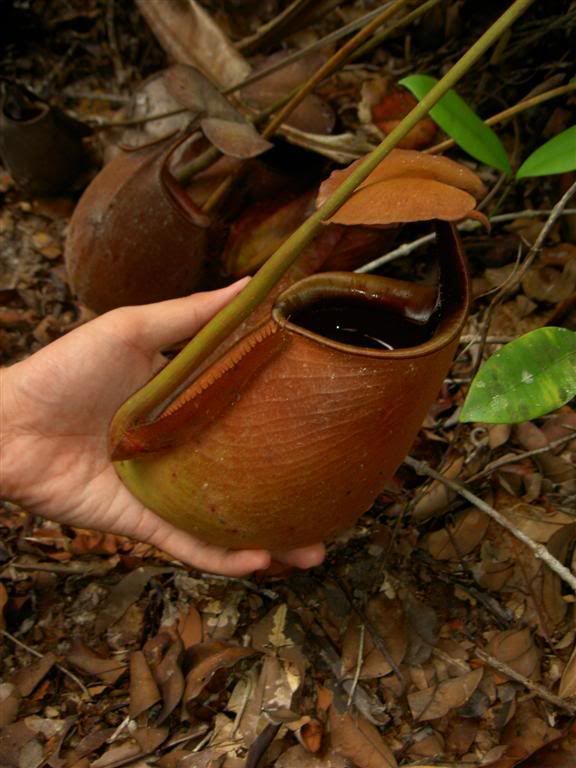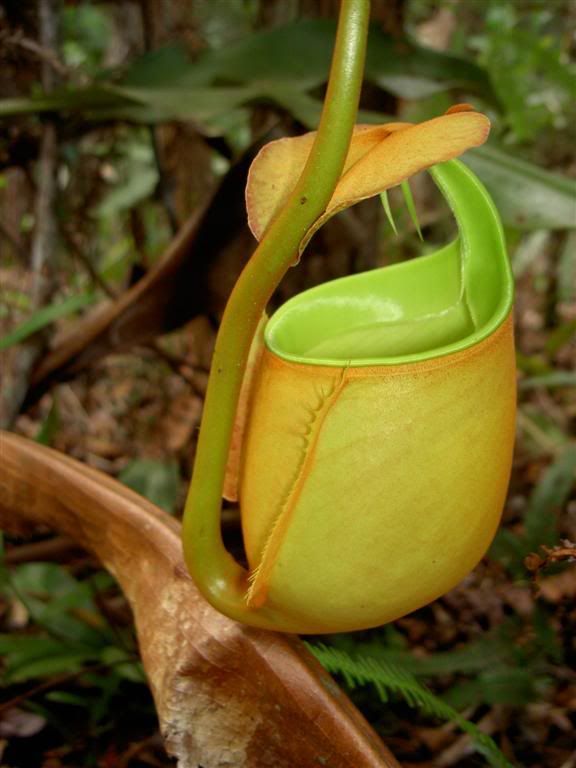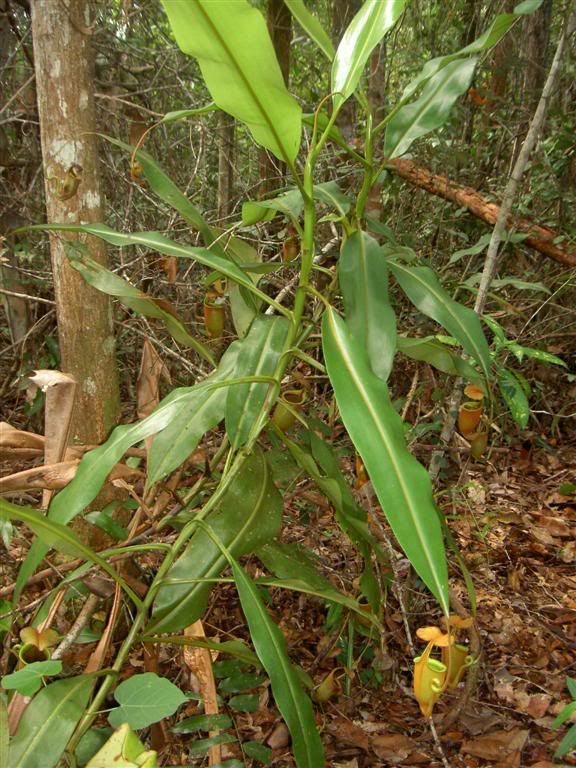 There were a few other plants, too:
The ever-popular Tricolored Amp
N. x cantleyi
(bical x gracilis) (Wikipedia sez it's only known from Brunei. What's up with that?)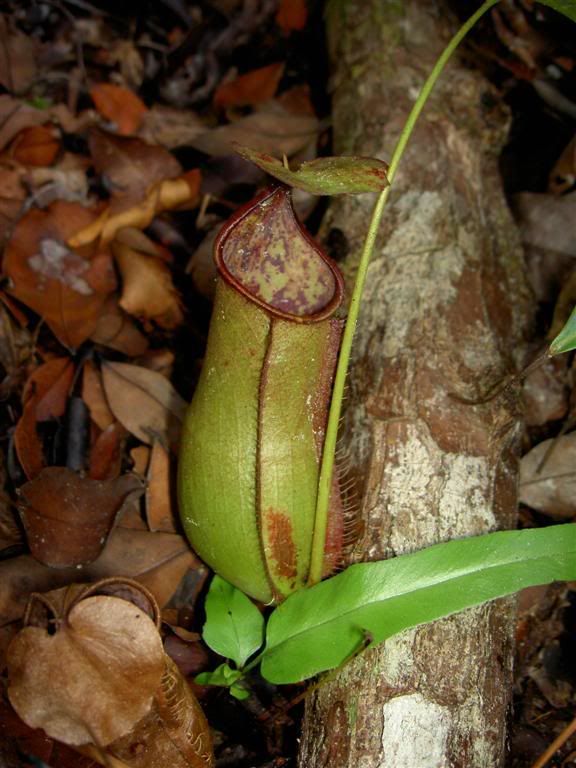 Common riffraff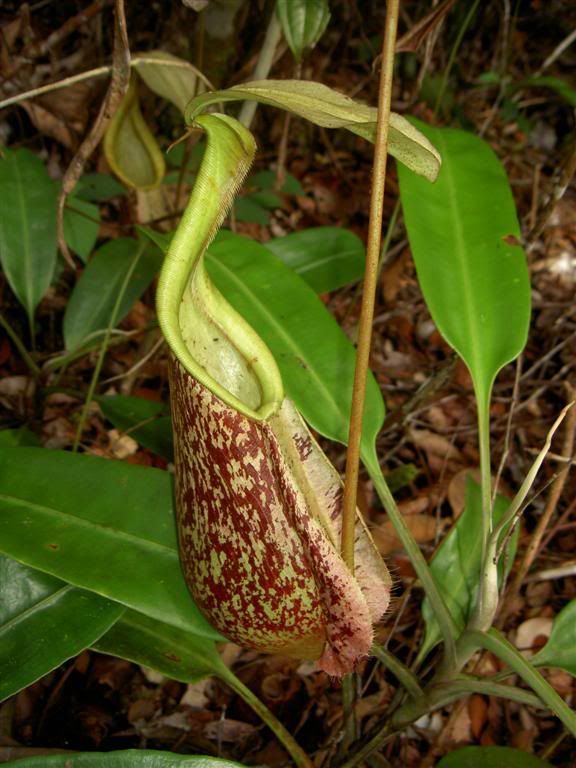 Some beautiful
x hookerianas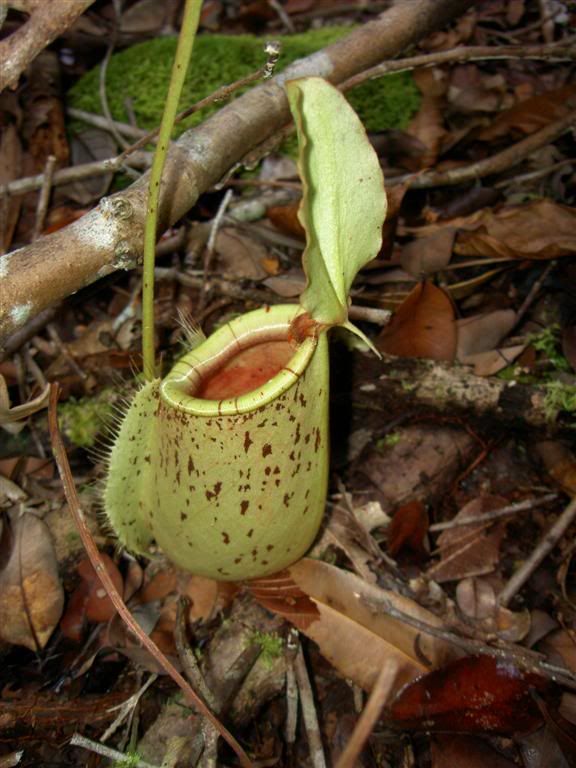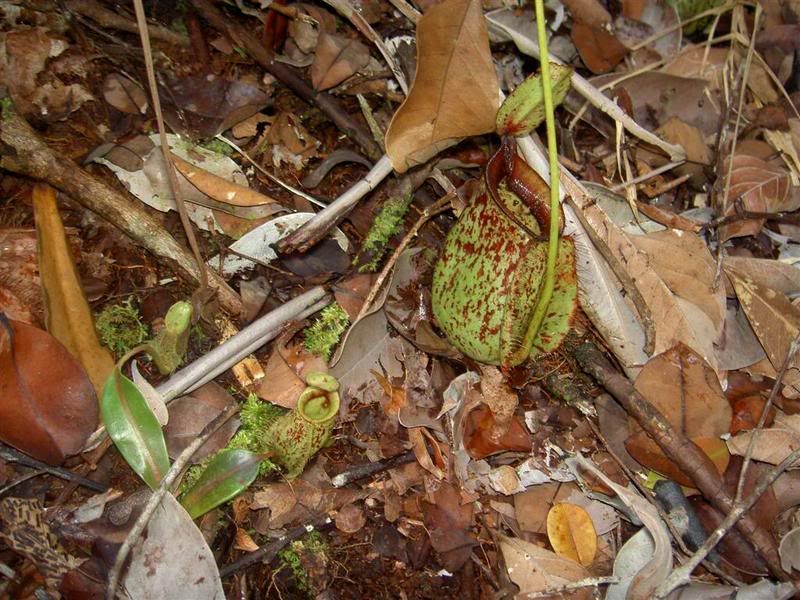 A nice terrestrial orchid on a four-foot stalk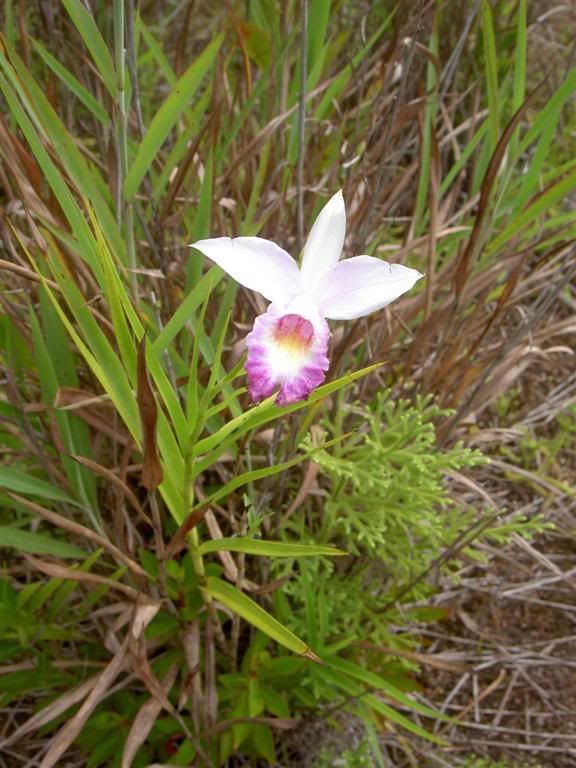 And with this shot of Jeremiah Harris, ambassador for a new generation of CP enthusiasts, doing what he does second-best, I've come to the end of my reports; and I'm now looking forward to everyone else's pix, especially those from the post-conference trip!