Post by twoton on Aug 26, 2007 19:26:16 GMT 7
The first field trip after the conference proper took us to Bako National Park, the oldest NP in Sarawak. It's situated on a small peninsula ca. 45 klicks north of Kuching and cannot be reached by vehicle, as there are no roads, only hiking trails. To get there, you'll have to board a Borneo Cigarette Boat at a jetty a mile or two downriver from the park. Very fast, fun and WET ride.
(Yes, that sign says "Beware of Crocodiles")
Directly inland from the shore at the park's main pier is a mangrove swamp. The fabled proboscis monkeys come here at dusk to feed on mangrove leaves - and fart like banshees for the rest of the night, as these leaves are quite hard to digest - hence the considerable guts on all adult proboscis monkeys.
Can you spot the Dutchman (Malay for proboscis monkey)? No? Well, neither could my camera. Maybe I should opt for one of those thousand-dollar jobs, after all. No matter.
I saw it
:-) These guys, like many other animals in the park (even the insects, it would seem), have no fear of humans, as they're protected and there's no hunting.
From there, the trail led us up, up, up through the forest to the main kerangas (heath forest) plateau at ca. 700 feet.
Grabbing tree trunks to facilitate the ascent is NOT recommended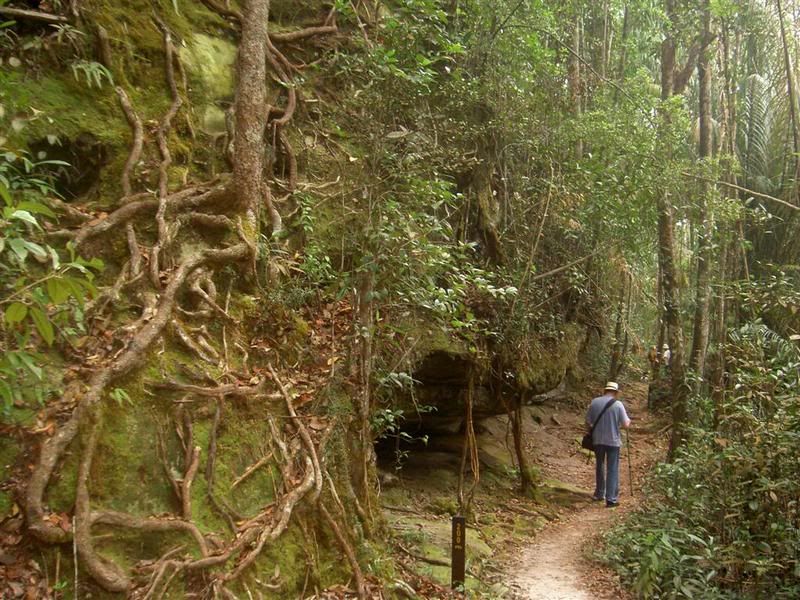 The gentleman on the photo above, by the way, is Frank W. Baker, a serious hobby shutterbug from Texas.
He's now retired in Kuala Lumpur and spends his days ambling through KL's many parks and gardens, taking pix of all things alive. A very wise career decision, if I might say so.
This fishtail exhaust pipe was built by a certain type of sweat bee. They don't actually live in the appendage, but use it as a "driveway" to get to their nest inside the tree.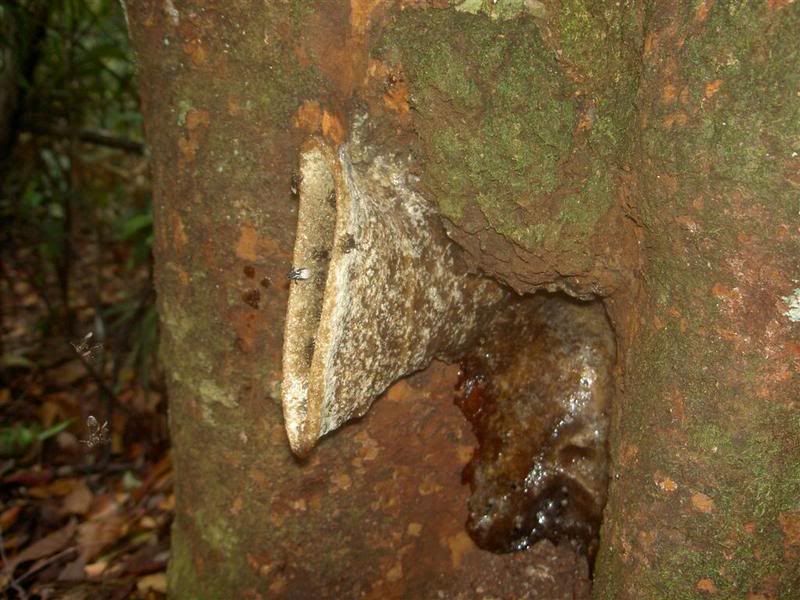 Our first Nepenthes of the day.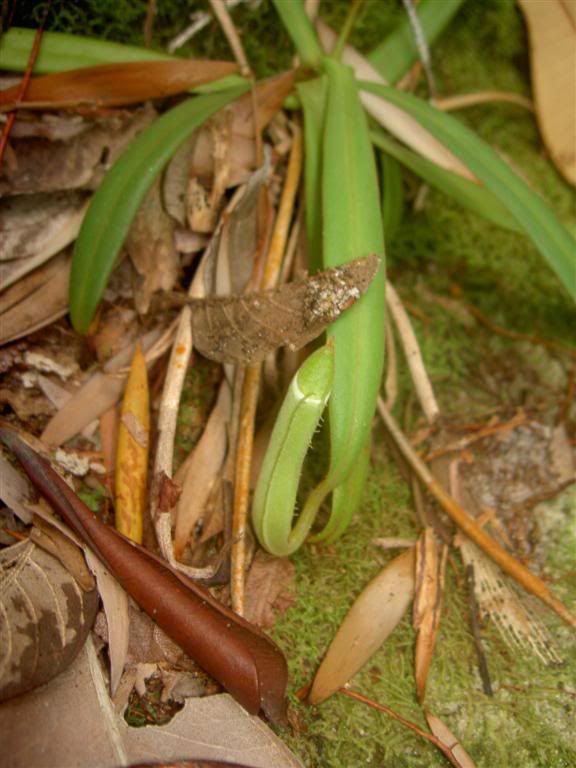 Right below the summit plateau , this sign reminds you that you're now leaving the wet forest and entering an area of cinder-dry vegetation.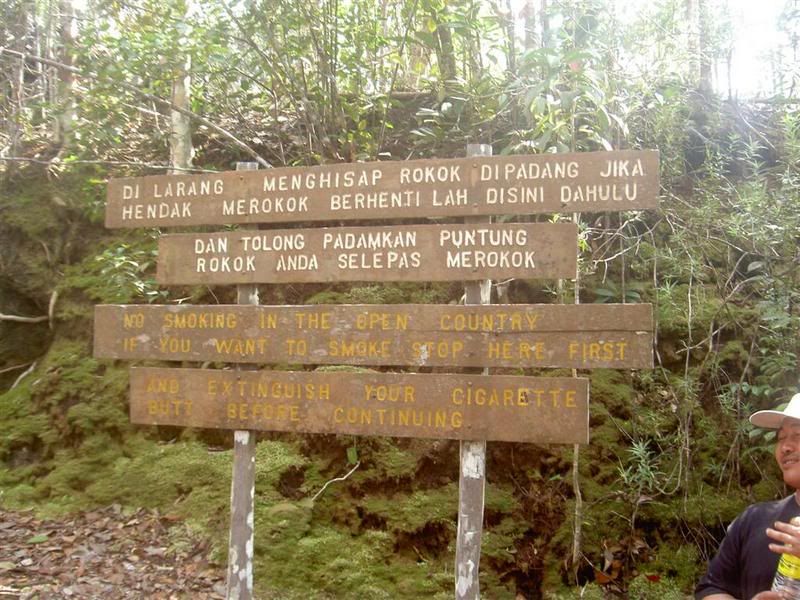 And up we went, into the sun.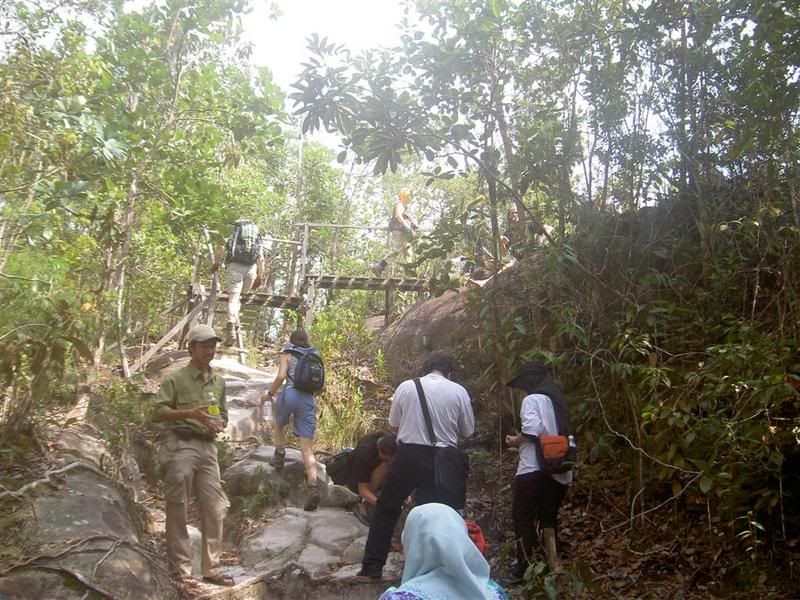 Thin trees, short shrubs, and little shade for humans
On to the plants - what did we find there? Besides the usual array of common roadside lowlanders (raffs, mirabilis, gracilis and amps), there were some very fine albos and even a few hirsutas in the forest on the far end of the plateau.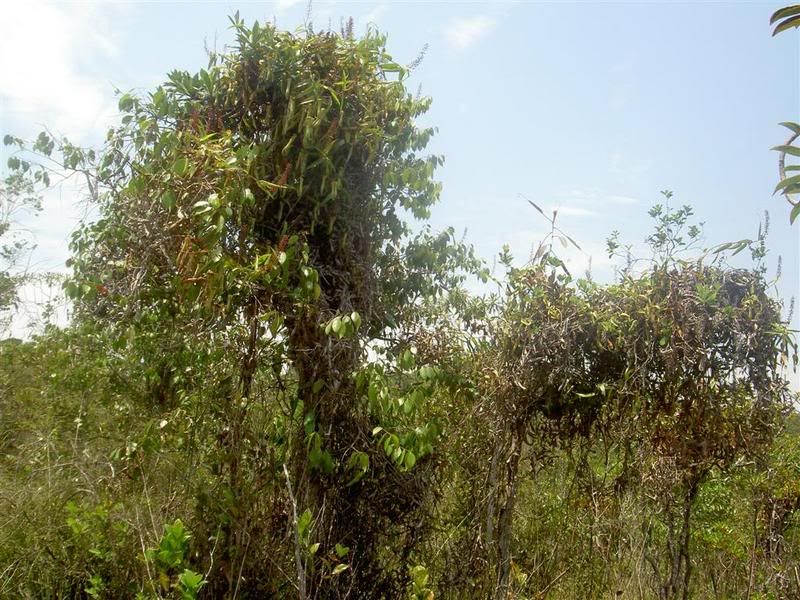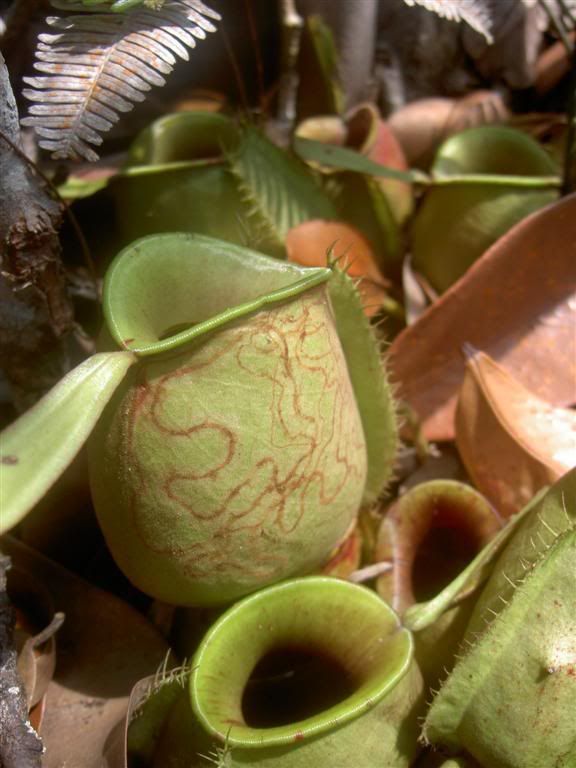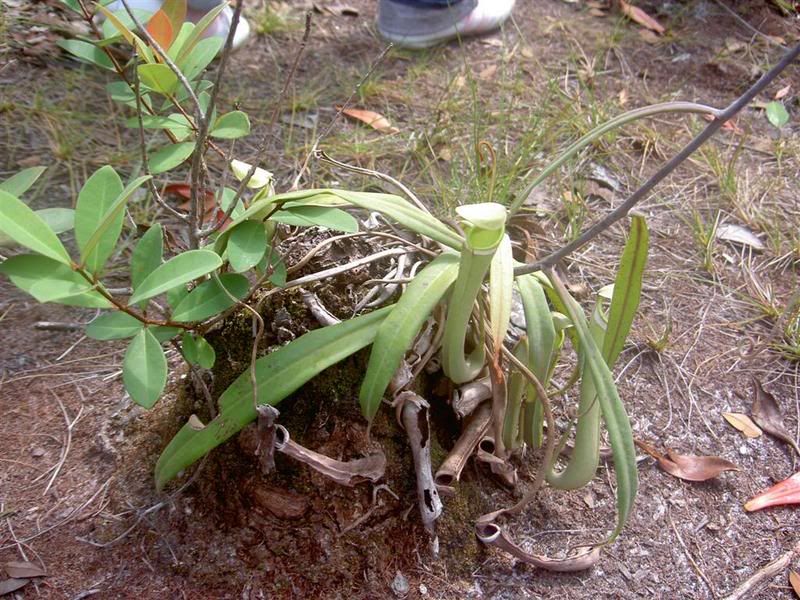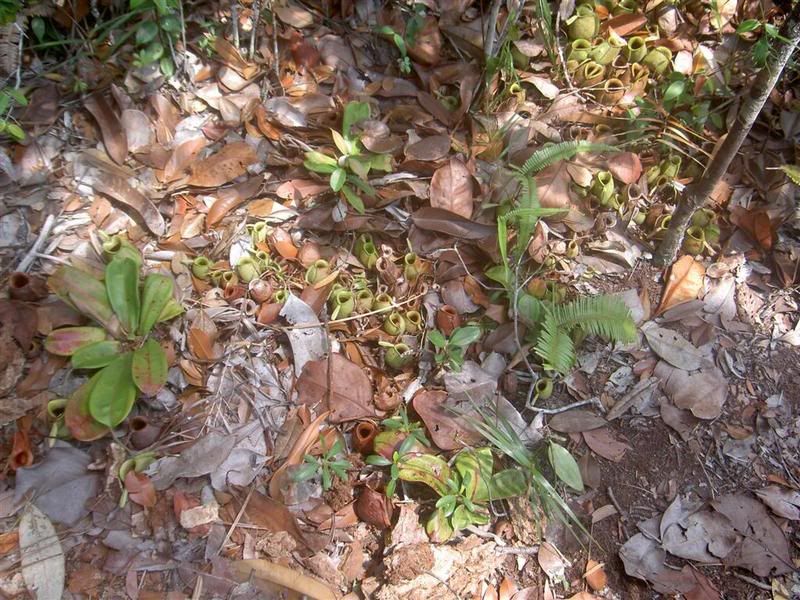 My favorite of the day
There were also some tiny little runty plants with even tinier flowers called "You tricky Larry-ah" or something like that, which grew in mud puddles and made some fellers go all gaga and kneel in the slime, mucking up their clothes and tripods. Some people, really. Surrounded by huge, glorious Nepenthes trees, these guys would bellyflop into the swamp to shoot daisies instead.....
But for me, the highlight on that plateau were the ant plants. Jiminy Cricket! Hydnophytum, myrmecodia, lecanopteris, dischidia - they grew on almost every dang tree! And the park rangers were totally blase about them, too. "Ant plants? Protected? Not really necessary, mate, just take a look around you..."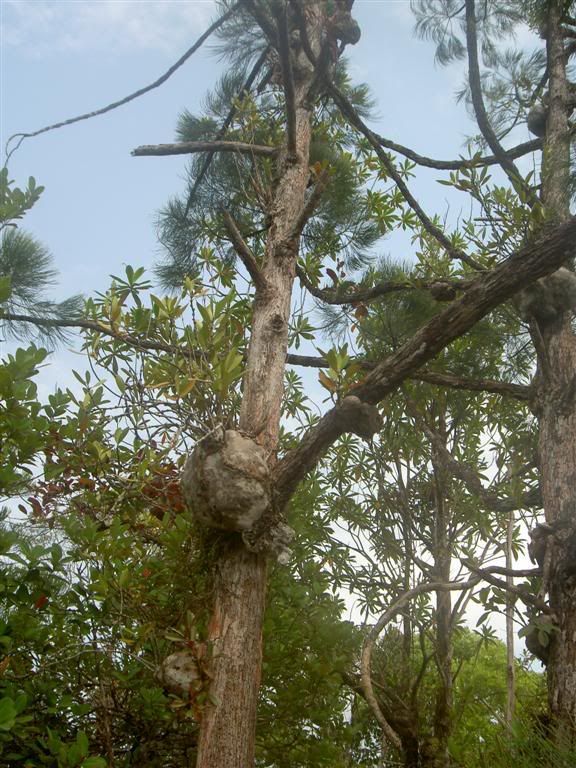 The 15 mm long red blur in the middle here is the tiniest dragonfly in the world,
Nannophya pygmaea
Back at sea level again, we had a lovely Malay lunch buffet and the opportunity to check out a green pit viper in a neighboring tree. Yes, I saw it. No, I didn't take a picture. I just didn't have the strength left to elbow my way through the frenzied naturalists to get in shooting range. It was a very nice and green pit viper, though :-)
After lunch, we strolled along the beach to check out some bizarre erosion art.....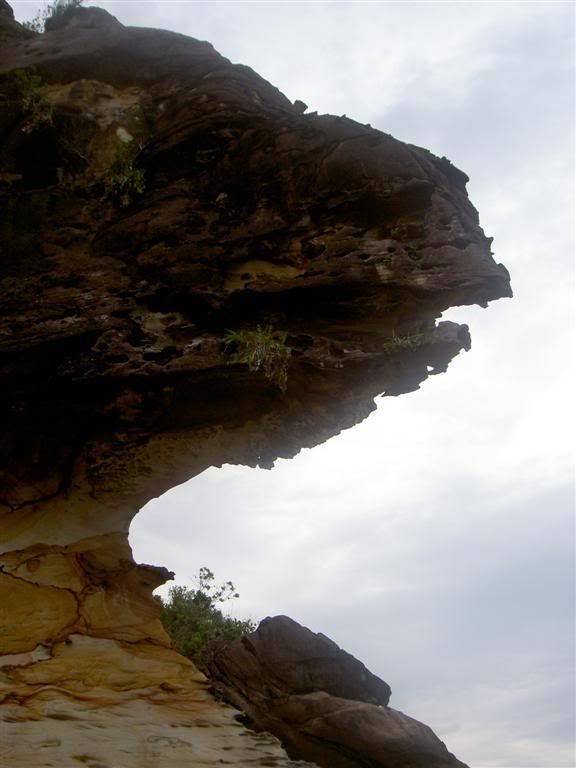 ....as well as a few bushels of N. reinwardtiana growing a hundred feet or so up the cliffs. I'm sure somebody brought a tele lens, so if you want to see those reinwardtianas, wait for his/her report :-)
There were probably more interesting plants in this forest, but the sun and the tide were low, and soon we had to roll up our pants and wade back into the cigarette boats ready to take us back to reality.