Post by twoton on Aug 25, 2007 13:31:27 GMT 7
I took quite a lot of pictures at the conference theater, but my camera didn't cope well with the murky light, so all the shots of the slides and speakers are really bad and strictly for my own reference. (As far as I gathered it, however, there will be a digital and a printed version of the entire conference proceedings - all the talks and speeches - available in September. Check with Ch'ien Lee)
Nonetheless, I did preserve for eternity many of the people I encountered during that week, and what an eclectic and enchanting bunch they were!
At the opening ceremony: Ch'ien Lee second from left; surrounded by various local ministerial dignitaries.
Two luminaries spanning three generations: Jeremiah Harris, chairman of the Colorado CP Society and CP wunderkind (13 years of growing experience, but barely old enough to vote), and Shigeo Kurata, one of the very first post-war Nepenthes research pioneers. His book "Nepenthes of Mount Kinabalu" (1976) inspired many a botanist - e.g. Charles Clarke - to concentrate on Nepenthes in their works.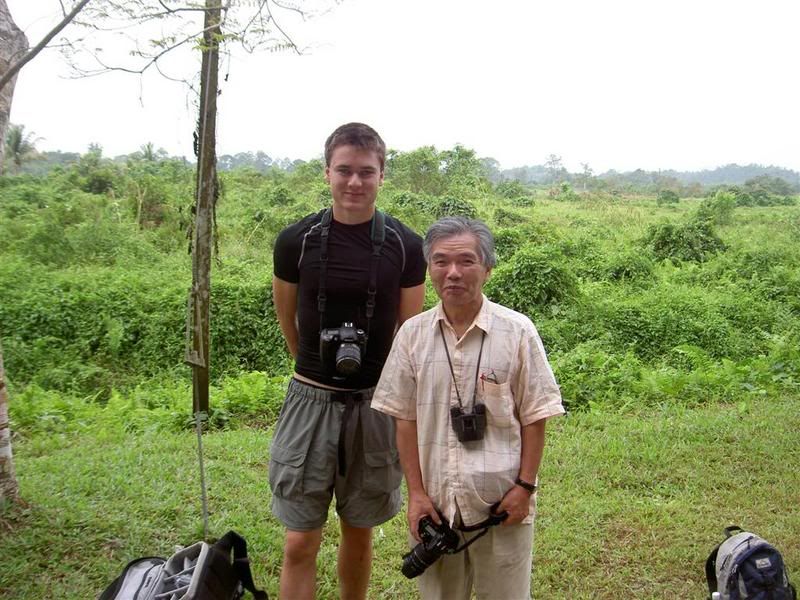 Second from left, surrounded by a few of his Indonesian collagues: Adrian Yusuf, who named himself after
N. adrianii
. Or was it the other way round?
Australia's Dr. Chris Schell, herpetology Ph.D., CP hobbyist and general naturalist, revealing for the first time his secret method for fertilizing
N. bicalcarata
....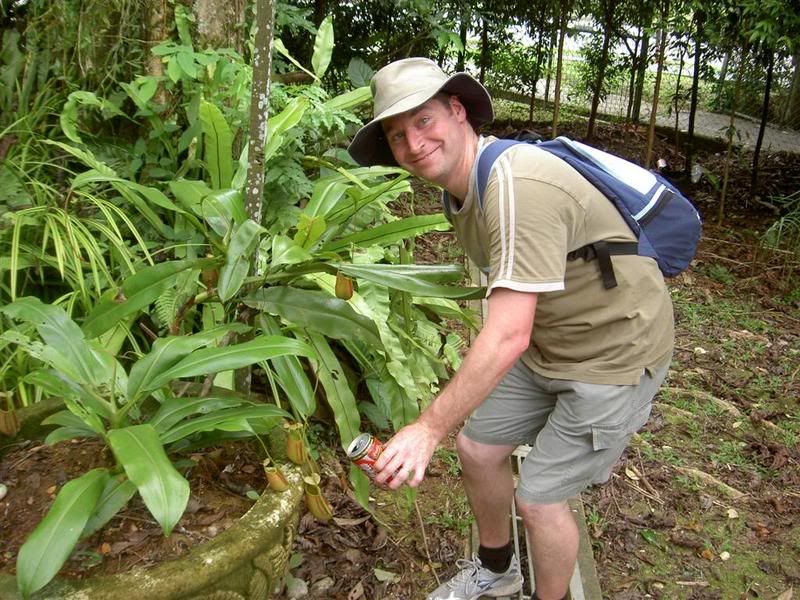 More happy Indonesians, our very own Mr. Suska on the right
Tea/coffee break just outside the conference theater. They had two tea/coffee breaks per day, plus a lunch break! Them Sarawakians sure know how to live...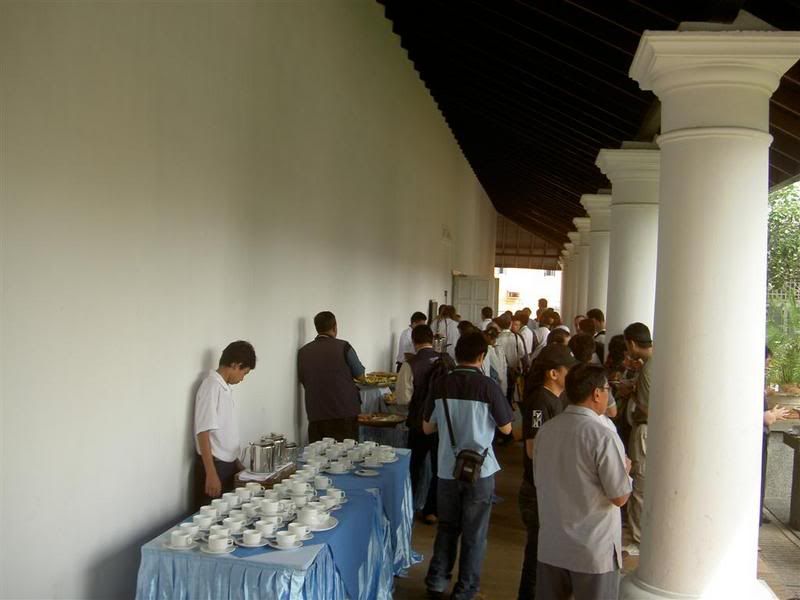 Shigeo Kurata and Naoki Tanabe; the latter being the head of the Japanese CP Society, and a total riot to boot. He's a magician by trade and a born clown at heart, and there's never a dry eye when he's around. His presentation about the current state of Nepenthes horticulture in Japan had the whole room in stitches. Slapstick City!
Bill Weaver
of Sunnyvale, CA; plant nut and one of the few private gardeners on the planet to have flowered an Amorphophallus titanum. And he has the T-shirt to prove it!
Dr. Matthew Jebb, Taxonomist, National Botanic Gardens, Glasnevin, holding a newly discovered windowsill species he is going to "describe shortly".
Last but not least, the irrepressible Twoton right after getting hit by a palm tree.
To achieve this cool look, you have to
1. climb a 700 foot hill somewhere in equatorial proximity, preferably over steep jungle trails covered in thick roots. This ensures you'll have no dry spot left anywhere on your body or clothes by the time you reach the summit.
2. stand right under a palm tree on which a five-foot frond has fallen out of the crown, lodged in the intermediate branches and rotted there for a few months to such an advanced degree that it's completely covered in decayed, powderized plant matter.
3. have somebody bump into that tree to cause the rotten frond fall right onto your head.
The sensation is very much like a two-pound bag of dust opening right above you and emptying its contents all over your body. Since you're already sweaty and sticky, it's almost impossible to get rid of the stuff with less than four showers. Of course, this didn't happen somewhere away from the main trail, but right in front of 68 people gathered to get a look at the
N. hirsuta
by the trailside. Incidentally, the Indonesians were very sweet about it: seeing my utterly flabbergasted face and obviously fearing that I'd go ballistic and grab the next machete and go all medieval on the surrounding (protected!) flora, they immediately rushed over to me and said "This is a sign of good luck! It means the forest is welcoming you!" And that's how I earned my new nickname, "Friend of the Forest"...(I guess I was lucky - could just as easily have been "Mud-filled Knickers")