Post by shawnintland on May 16, 2015 19:45:05 GMT 7
Dear
Nepenthes
enthusiasts, this is an
EMERGENCY
appeal for your assistance!
As many of you already know, I and a small group of friends, now known as the S.E. Asian
Nepenthes
Study & Research Foundation (SEANSRF) have spent the better part of the last decade promoting the conservation of Thailand's endangered
Nepenthes
species. We have made some great progress, including having saved the last known genetically pure colony of
N. mirabilis var globosa
from imminent destruction in December 2012 (with only one week to spare!), exposing literally thousands of Thailand's students to both
Nepenthes
and their conservation, motivating the country's scientific institutions to become involved in
Nepenthes
research and conservation…but today we find we are up against a situation which requires far more than we can come up with on our own! And the time-frame is
extremely
short!
The World's last remaining colony of
N. suratensis
is about to be destroyed to make way for a new, gigantic prison complex! There is
NO
stopping this from happening! Huge sums of money have been invested in planning and permitting and today I was informed that construction will begin in June, 2015! We have 2-3 weeks to rescue as much of the genetic diversity as possible before it is lost forever!
I'll have to ask that you just believe me when I say that right up to this very minute we have been doing our utmost to turn this situation around (I'll add some notes about yesterday's developments in a follow-up post to clarify that point). Right now I can tell you that I spent this afternoon at the site, in a tremendous downpour, making a hundred+ cuttings as fast as I could. Today I have also received commitments from two local Universities to host cutting-based gene banking programs and have recruited a team of Uni researchers to work with us to save all we can in the next few remaining weeks. The Director of the Department of Corrections has donated 50 rai of land (about 20 acres) nearby for the transplanting of the rootmasses after we take as many cuttings as possible. He has also offered us a 'captive' workforce of incarcerated prisoners to assist!
Now, what we are sorely in need of is
financial assistance
to make this happen…and we only have
one
chance! "Talking" about saving species is easy – actually "doing" it is a bit more difficult ...and costs money! Here's an opportunity for everyone to show just how much they
really
care. I will assure that any donations to SEANSRF which are earmarked for the "
N. suratensis
survival project" are 100% applied to trying to save this species in the little time that's left. (See below for link)
I'm going to throw caution to the wind here – it won't matter anymore by the end of June if someone with evil, self-centered profit motives learns of the colony location! But showing you the situation just might inspire some of you to contribute and that could mean the difference in saving this species from extinction. Below is a diagram of the site of this last remaining colony and I have overlaid the construction plans for the new prison. As you can see, most of the plants will be either 'under' the prison or destroyed in the construction process either by land clearing, material stockpiles or workers' quarters.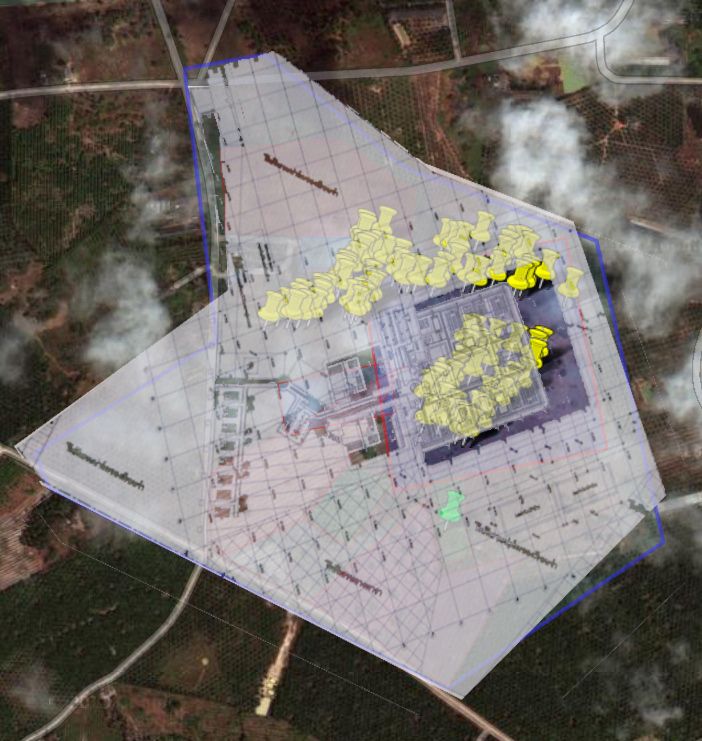 Just so you understand, this isn't something we have just now jumped into, here is the conceptual model for the conservation of
N. suratensis
based on the Miradi conservation program prior to this event arising (Read from right to left; outcomes in green, direct treats in red, indirect threats in orange, solutions/approaches in yellow). We were well 'on the way' with the local school
Nep
-Ed program kicking in on June 2-4 with a teacher training program at the local University, the Nat'l Science and Technology Development Agency helping set up a community tissue culture lab, approximately 1,000 seed-grown plants in the SEANSRF gene bank, numerous Universities enrolled in assisting us, the Department of Agriculture, the Royal Family, CITES, IUCN and many others kept 'in-the-loop' on what we are attempting. But now it has come down to "
DO
or
LET DIE
" for this species! So I'm appealing to you, the people who care the most about these plants.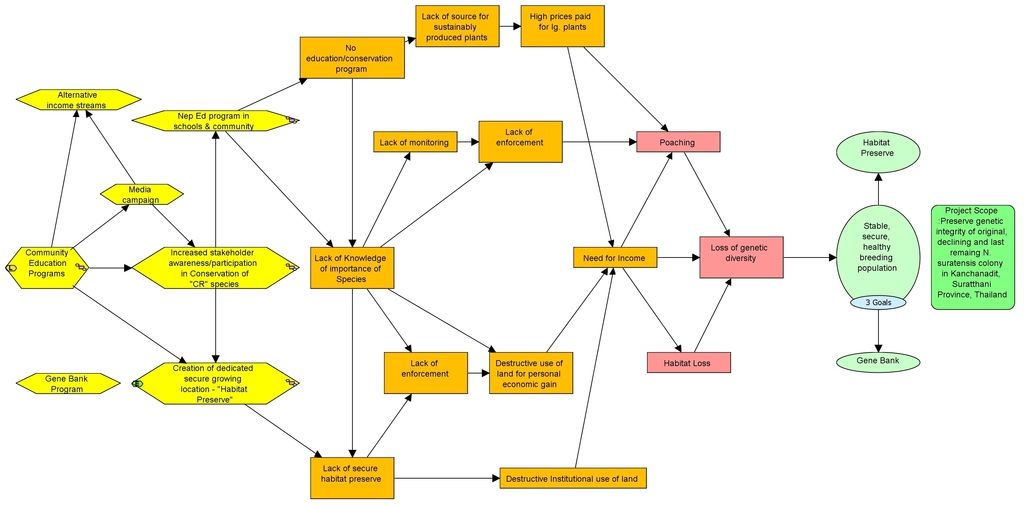 I hope you will see the importance of this as an example for the World of what
CAN
be done,
if
enough people really care to see it through! There's a PayPal 'donation' button on the SEANSRF website (which I am afraid is terribly 'out of date'!) at
www.SaveNepenthes.org
SEANSRF and especially
N. suratensis
thank you for
any
assistance! Please help us save
Nepenthes
!
Shawn Mayes
Secretariat - SEANSRF