Post by twoton on Apr 14, 2015 20:52:08 GMT 7
Sometimes it can be a blessing when the kids need to pee a lot during long drives. We were returning to Kuching after a weekend at Gunung Gading National Park near Lundu (western Sarawak), when our son Karl, for the third time or so, announced the need to answer nature's call. I pulled over, Karl got out, set up the deed, and suddenly called out: "There sure are a hell of a lot of pitcher plants around here!". Never one to ignore a nice Nepenthes, we all got out and started wandering around in the man-made desert flanking the road on both sides. The scenery provided no shade, lots of hard-packed sand, much of it eroded into bizarre formations big and small, and the usual plants that move in after humans have removed the original forest were everywhere: waist-high dry grasses, tall ferns, small shrubby treelets with leathery leaves (growing upright to avoid the sun),
Dillenia suffruticosa
, and of course, Nepenthes. The major players were
N. mirabilis
and
gracilis
in a wide array of colors ranging from grass-green to almost-black purple, but here and there,
N. rafflesiana
, speckled and all-green ("nivea") could also be found, and even a few x kuchingensis. This hybrid is the offspring of mirabilis and ampullaria, but although the area was crawling with Nepenthes, there were no amps in sight at all.
We let the place blow our minds for an hour, took a few pictures and vowed to come back the next weekend with more time and camera gear.
During our second visit the following Sunday, we spotted a patch of some secondary jungle nearby. A very narrow, overgrown trail conveniently lead into it, so we set out to see if we could find a few nice, big amps. There were indeed a few small ones, just enough to explain the roadside hybrid, but more importantly, we found two absolutely spectacular rafflesianas. One, a speckled monster lying out in the open by a swamp pond, was adorned with the biggest pitchers I've ever laid my eyes on. The other plant grew inside a very dense and shady stand of thin trees, and dazzled with large traps and fantastic color-coding: wine-red with a bright green peristome.
And all of this just a forty-minute drive from our house. Watch this space for more photos soon to come from the same spot!
Let's start with a few habitat shots to set the mood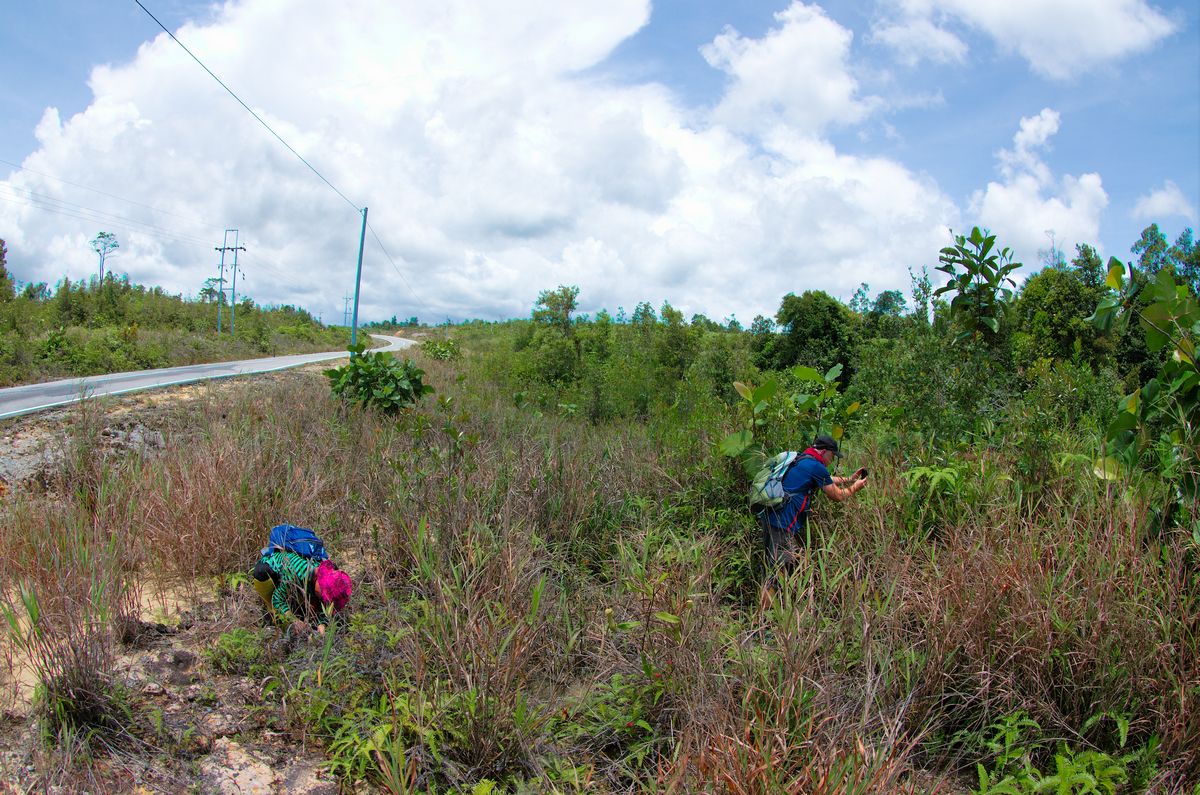 Now for the plants, and a game of Spot The Nep
N. x kuchingensis
N. gracilis snaking along the ground everywhere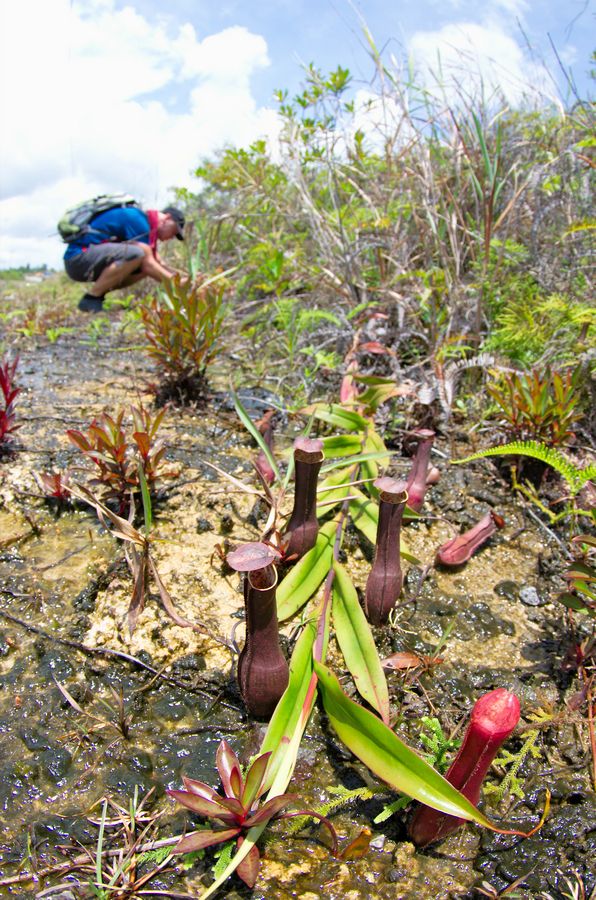 Into the forest we went. Yes, that's a trail. Yes, we needed a parang :-)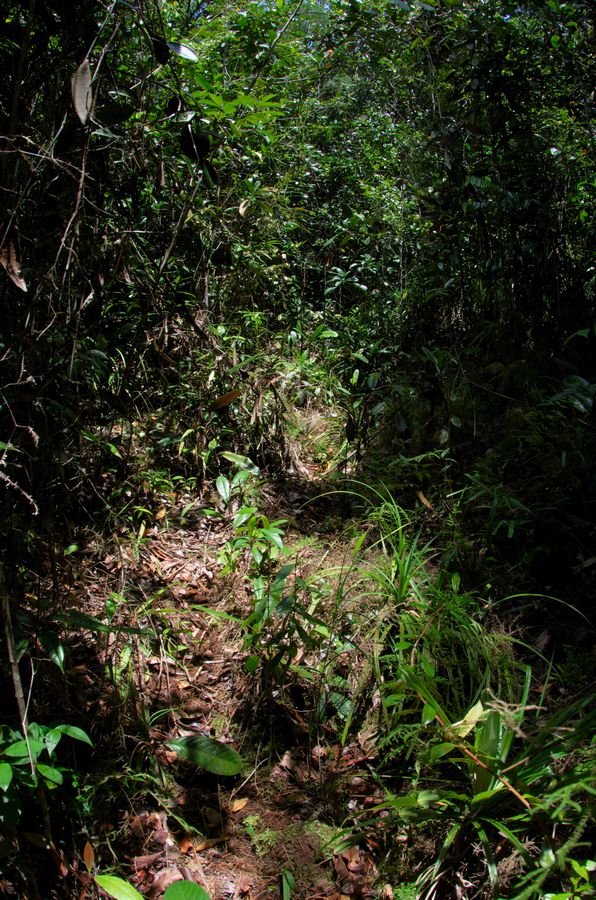 Where's Waldo?
There he is:
There was the King, just lolling around on the ground
King, Queen, and Heir Apparent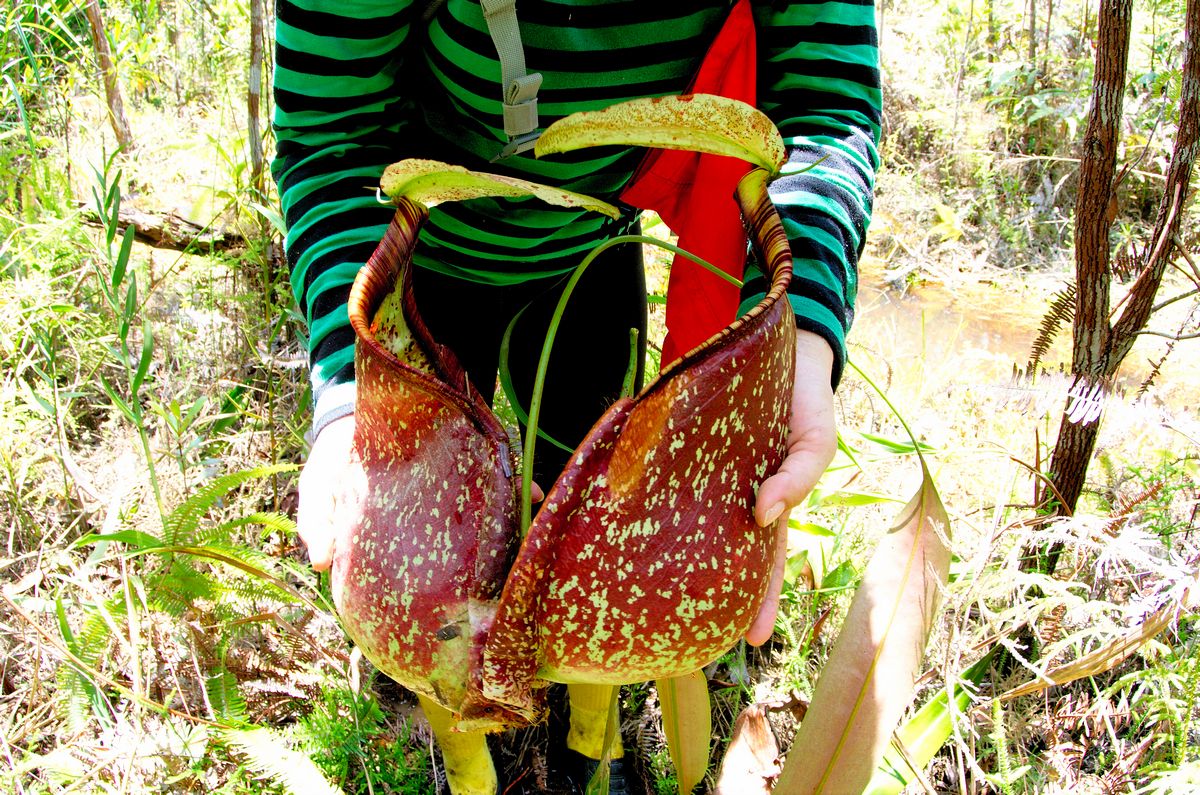 After recovering from the shock and taking a kabillion pictures, we returned to the road to check the other side.
Lots of mirabilis here:
These looked like some sort of hybrid ... or just a different mirabilis variety?
N. rafflesiana var. "nivea"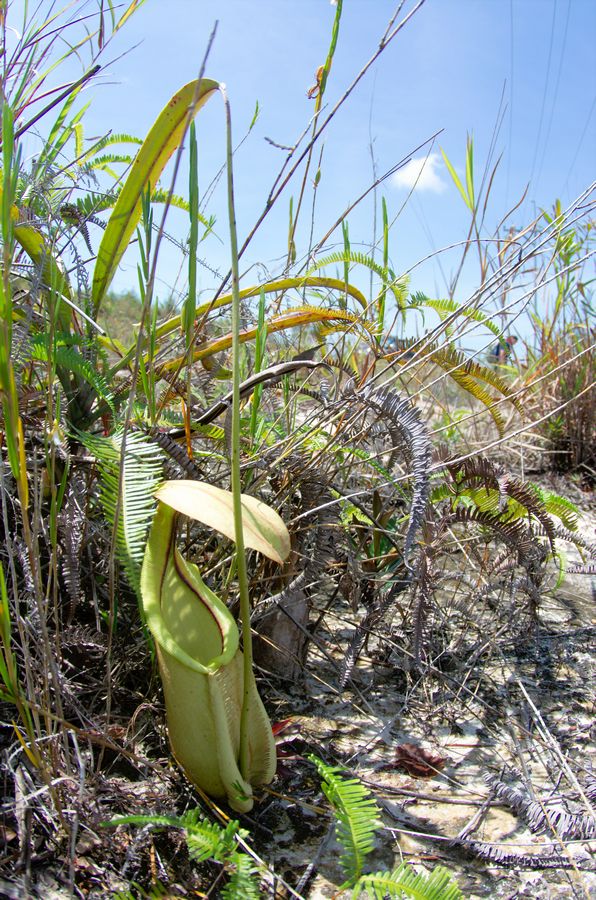 There were other plants too. No ID. Anyone?
N. gracilis often clumped in little rosette towers, from which the tendrils took off to explore the land
I had to throw away all my clothes after spending most of the afternoon prone in the sand/mud/gunk/leaf litter