Post by shawnintland on Jan 26, 2014 14:20:09 GMT 7
Do you want to actually
DO
something to help
Nepenthes
conservation???
I believe time's too short to keep doing the same old things and hoping for a different outcome...I have an idea I'd like to share with the
Nepenthes
community to see what can come of it. Forums are a great place to 'talk' about conservation of our favorite Genus, but what if they could actually
do
even more to HELP?
I have a challenge for the International
Nepenthes
Internet Community and I'd be really thrilled to see people take me up on it; Let's move beyond the all-too-easy moaning/groaning and griping about species/habitat loss to using the internet for change. No,
not
another on-line petition to forward!
In February the S.E. Asian
Nepenthes
Study & Research Foundation (SEANSRF), working with our partners, will begin implementing our 3rd season of 2-year-long
Nepenthes
Education Programs in Science ('NEPS') & 'Botany in School' programs with participating primary and secondary schools & communities throughout Thailand, and specifically with those in proximity to what we feel are the 4 most-endangered Thai
Nep
species. We could use your help!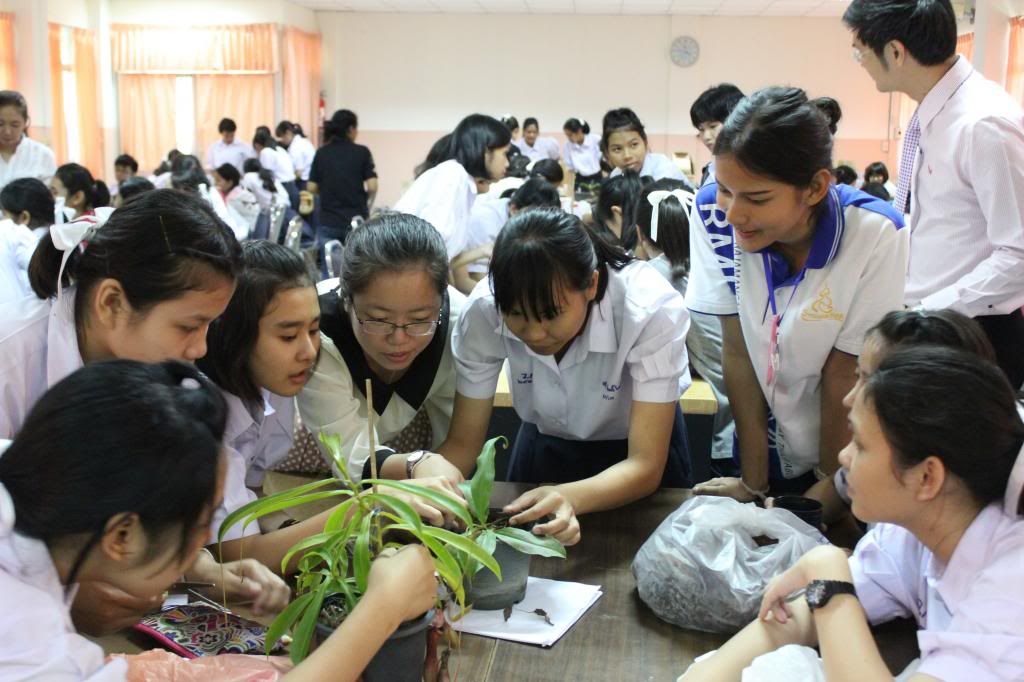 One aspect of the program will be working with the National Science & Technology Development Agency's media department to produce an entire series of educational videos on aspects of
Nepenthes
general knowledge, specifics of horticulture, botany, conservation and research. These films will be, for the most part, very short (5-10 minutes) segments which will be posted on-line for students to utilize as 'refresher' material for lessons they will study in classes and at science camps. (You can find more on the 'NEPS' program at http://www.SaveNepenthes.org)
What I need your help to come up with are
brief
scripts for each film segment and then i need to time them out to give the NSTDA some idea of the production schedule and details. Again, these need to be very brief but need to cover the most important points of each topic. I have most of the 'propagation' scripts already in the textbooks from the last few years' courses.
I have put together a list of the video subjects that we intend to produce in the first round and would like to invite any and everyone to participate in submitting
short
scripts, if you are so inclined. Your efforts will become part of SEANSRF's overall program to benefit
Nepenthes
and students' education. These short segments are due to be taped in late February and March and be 'in-use' by May! So if you want to help,
NOW
is the time! I'll post the list of subjects and if you see one or more you would like to work on scripting please contact me a.s.a.p. by e-mail.
I will need to edit them to provide continuity, so getting something back quickly is of utmost importance.
Okay, thanks to all of you for reading and any assistance you care to provide!
Shawn
Shawn Mayes
Secretariat – SEANSRF
www.SaveNepenthes.org
info@SaveNepenthes.org
Educational Nepenthes film programming
Short films covering following topics. All times estimates only!
Content 1;
Nepenthes
- General Discussion (Total = approx. 10-15 minutes?)
Content 2; Diversity of
Nepenthes
species (Total = approx. 12 minutes?)
a. World-wide – 140+ species (4 min.?)
1. Distribution/range (Map)
2. Highland/lowland/intermediate
b. Thai species – 13 species (8 min.?)
Content 3; Physical Factors affecting growth of
Nepenthes
; (7 parts Total = approx. 51 minutes)
Each covering; Why they are important, optimum range and how to measure/control them.
a) Introduction (10 min.?)
b) Light (7 min.)
1. Levels
2. Type (Natural/artificial)
3. Measurement (With equipment/simple method)
4. Control
c) Temperature (5 min.)
1. Levels
2. Control
d) Humidity (5 min.)
1. Levels
2. Type
3. Measurement
4. Control
e) Moisture (6 min.)
1. Levels
2. Water type/Quality
3. Measurement (With equipment/simple method)
4. Control
f) pH (5 min.)
1. Levels
2. Measurement
3. Controls/adjustment
g) Media (8 min.) (Using materials available to Thai schools)
1. Purpose
2. Materials
3. Mixing
4. Moisture level
Content 4;
Nepenthes
Propagation; "How to" lessons (Total = approx. 52 minutes?)
Each covering; Concept, materials, methods, data logging, hints, problems/solutions
a) Introduction (10 min.?)
b) Seed production – planting (8 min.)
c) Cutting production (8 min.)
d) Plug transplanting (8 min.)
e) Plant transplanting (8 min.)
f) Tissue culture (Basic overview only) (10 min.

)
Content 5;
Nepenthes
Pests, Problems and how to deal with them (Total = approx. 21 minutes?)
a) Insects (5 min.)
b) Fungus (5 min.)
c) Algae (3 min.)
d) Snails/slugs (5 min.)
e) Birds (3 min.)
f) Compacted media (3 min.)
Content 6;
Nepenthes
Conservation & Research (Total = approx. 29 minutes?)
a) Introduction (5 min.)
b) Threats;
1. Habitat loss (5 min.

)
2. Poaching (5 min.

)
c) Research; IUCN Red Listing, Biotech, Nanotech, Genetics (7 min.

)
d) Habitat preserves (7 min.

)
Content 7;
Nepenthes
Science Project (Basic overview) (Total = approx.

minutes)
Other potential subjects;
Taxonomy (set of 9 films at _?_ min. each)
a) Introduction; "Why taxonomy matters" (10 min.)
b) Leaf shape (? min.)
c) Leaf apex (? min.)
d) Leaf base (? min.)
e) Leaf-to-stem attachment (? min.)
f) Pitcher shape (? min.)
g) Lid shape (? min.)
h) Indumentum (? min.)
i) Flower (? min.)
Chemistry (

)
Genetics (

)
Commercial production (

)
Now, here's a few 'behind-the-scenes' shots of the taping of the first
Nepenthes
video feature for the "Thailand Explorer" television show shooting for which was completed last week here at the SEANSRF facilities and in Phang Nga province where we filmed in the habitats of
N. andamana, N. mirabilis var. globosa (both species under stress) and N. mirabilis var. mirabilis
. (You'll also see some of the above segments of the propagation lessons being filmed as long as we were at it!)
While the
whole
list is endless, we
especially
want to thank; K. Trong & K. Lek for taking on such big parts, K. Uhan & Ba'u in the SEANSRF nursery, K. Mook & Kainoi for their work in development of education programs, HRH Princess Maha Chakri Sirindhorn and her program staff, Critical Ecosystems Partnership Fund, International Union for the Conservation of Nature (IUCN) and the
entire
NSTDA crew who are a pleasure to work with!
Production work/editing should take about a month or two and then the show will be broadcast nationally on NSTDA TV, MCOT and we are told possibly Thai PBS, as well as being posted on-line.