Post by sunbelle on Jan 4, 2015 1:36:46 GMT 7
definitely
prefer
N. [[(anamensis x ventricosa) x ((rafflesiana x ampullaria) x (gracilis x khasiana))] X [((veitchii x maxima) x spectabilis) x truncata]] X [[ventricosa x (ventricosa x (ventricosa x talangensis))] X [(northiana x veitchii) x (spectabilis x northiana)]] X spectabilis.
Someone please hand me a yardstick - I need to make a new pot label. Thanks!
Paul,
You're too funny.
It seems obvious, you could always abbreviate like we do... we have many plant labels with abbreviations such as: raff, amp, vent, north, trunc, spec, veitch and so on...
problem solved without creating a bunch of new hybrid names to add extra steps in communication.
What if I said we have the hybrid grex name "Chocolate pot"? Does it really make anything more clear or easy to understand? No.
Here's a tag from one of our seedling compots, we have hundreds of plants coming along. Some of the parentage is unknown.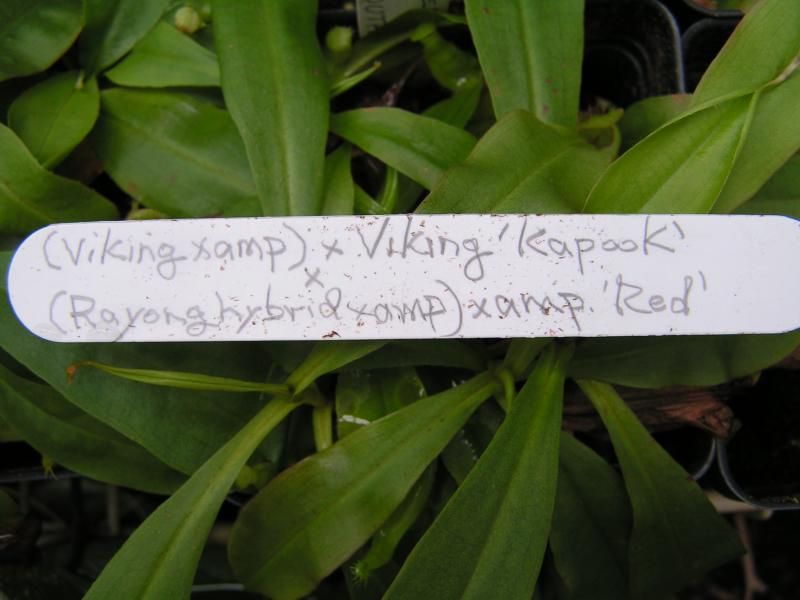 Paul, you are an expert on roses, and could you imagine if someone, even a large breeder, decided that he would design a new system for naming rose hybrids and cultivars, outside of what has been in place for many decades; and decided all breeders have to agree to this (even falsely claiming the majority agree) and if you don't they would proceed with it for all roses anyway...? Could you imagine the confusion, especially decades later when that entity is no longer involved? You see, we don't think the ICBN is going away anytime soon, and their rules have worked well for roses, as well as all other horticulturally derived hybrids except orchids. Again, tell me why Neps are different from all other plant groups? ...other than the long tag problem---which, come on, is easily solved.