Post by leilani on Apr 25, 2012 14:59:49 GMT 7
Rob and Geoff would seem to be monopolizing all the hate mail lately so I thought I'd take a little pressure off of them with .....
LEILANI'S REVIEWS : APRIL 2012
PITCHER OF THE MONTH
1)
mass / N. Song of Melancholy
Do these all really grow in a dorm room? As I look at the flash picture, at the shadows and the pots crowded together, I can't help but wonder about the strangeness of the cloistered existence these plants enjoy. There it sits, soaking up the few warming rays of what must be very precious sunlight. Curtains pulled closed all day while our students sleep and then black-lights and disco-balls all night as they study. Poor plants.

There are two distinctly different plants that resulted from the Song of Melancholy grex: striped peristome and dark peristome. Those with stripes are most certainly boschiana x (spectabilis x veitchii). Those with dark peristomes are less certain but would seem to be a combination with spathulata. Both are vigorous growers with thick leaves and both can produce fairly large pitchers. These plants were resultant of a grex made by
rainforest
some years back.
mass' plant will be a beauty if he can give it enough light but its not POM material quite yet.
2)
thez_yo / petiolata
"She got the thez …… yo!"
This would seem to be about as close to "mature" as thez lets them get before, as dictated by the space on her balcony she kills or discards them. Our reigning "Queen of the Micro-Greens" is truly obsessed with her hobby of acquiring and killing the rarest plants on earth. ;D Someday she will look back and say …. "I should have bought a house."

This particular entry reminds me a bit of one of these classic picture FAILS where the photographer gets it all set up and looking good only to have some dog take a dump in the background as the camera clicks.
N. petiolata is a very nice plant as it matures and hopefully thez-yo's plant will last long enough to really get there.
Zuzy baby! I love you. ;D
3) bobblybook ….. bobblybook …. bobblybook ( ,,,,, It's fun to say!)
N. (lowii x veitchii) x campanulata
I like this one. I could pick at the framing or background details but picture-wise ….. its got the most important thing right ….. good light.
What I like about this one is the subtlety of the colors gradations. With the sandy colored wood slats in the background this one takes on a sort of Gorgia Okeef New Mexico landscape quality. I actually Googled images for Okeef in hopes of finding a match for this picture and quickly discovered that I find the many portraits of the artist much more intriguing than her actual work. Ohh, and what I just said about this entry having an Okeef quality ….. Nah! My mistake.
4) william9in / truncata x ephippiata
William has decided that his handle "william 9 in" is just too subtle and people are just not getting it. To put and end to this and to finally get everyones attention william has decided to give us the "Full Monty". BEHOLD the glory of all 9 inches of william!
What a D*CK!
5) Red Lowii / N. ventricosa x ephippiata
Apparently this plant lives in a dark wooden box where it rejoices in the 30 min of light it gets as the sun passes over the crack in the roof.

An artsy presentation that bathes the subject in the warm red rays of dawn (dusk). I call this the "boudoir style". ( … I just started calling it this). Interesting. On the other hand, I prefer to see the subject in a more natural presentation. Red is sexy but i'd like to see her without the special lighting.
6) jonathan / N. veitchii x boschiana
I can't find anything wrong with this entry. I'm not sure where this one comes from (aw or ep or ?) but the combination is very intriguing. N. boschiana seems to transmit some distinctive and fairly consistent genes to its hybrid offspring. If, this combination should exhibit the flared peristome in the uppers ( .. as with spathulata x boschiana) then, this could be
spectacular
down the road a bit.
7) brett0 / N. eymae x spectabilis
brett0 consistently brings it to our contests. Among the best growers here on our forum his entries are always of interest. I was not particularly excited by this months entry but I think my dis-satisfaction probably has more to do with the tight cropping and confused backgrounds in the pictures than the plant itself.

8) paulbarden / N. (ventricosa x sibuyanensis) x (spectabilis x northiana)
A relative new-comer to our contests paulbarden has, over the last few years, built himself a pretty nice collection. What is beginning to separate paul's collection from so many others ……… paul's plants look good.

Interesting heritage, pretty pitcher, good shot.

9) crusher / N. jamban
I gonna go out on a limb here and say that this picture is just wrong …….. in SO many ways. DUDE, GET A GIRLFRIEND!
10) Nepenthenator / N. ovata
I love this species but I hate this kind of cell phone convenience entry. I don't want to look at a little cell phone sized image and I'm probably not bothering to log in just to view your picture. If, you care enough to enter then, take the extra few minutes and save us the trouble.
11) brokkent / N. hamata
brokkent showing off more with his camera than with his plant. Excellent clarity, definition, etc. A real quality shot of a very pretty adolescent pitcher.
12) twigs / N. sibuyanensis xx trusmadiensis
Don't let that pretty baby get strangled in its crib! What is this one doing up so late anyway?

I love this plant. A great one from Exotica that may soon become the best plant in your collection.
13) apis / N. ampullaria "Red Sunshine"
Another beautiful marble from the seemingly bottomless marble bag kept by apis. Who's collection do I envy?

14) sirkristoff / N. jacquelineae
I've seen this one before ……. I think its called N. jacquelineae "The unattractive clone". ;D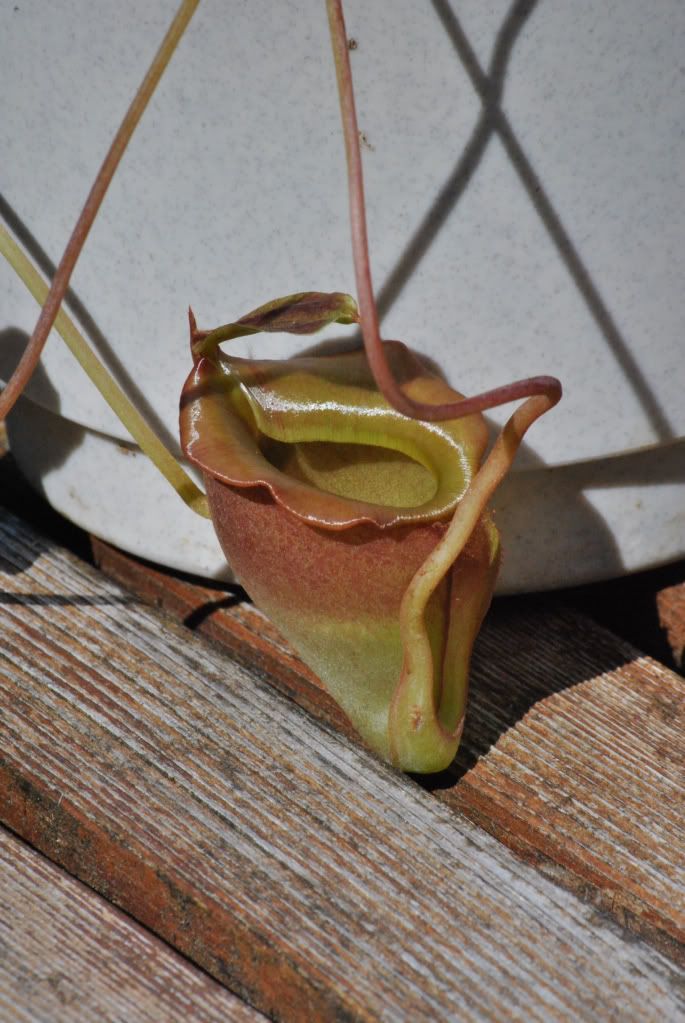 15) michaelnegrini / N. talangensis xx trusmadiensis
A very nice upper pitcher, an unusual plant, nice picture, good entry.
16) xcplants / N. rafflesiana
A great looking rafflesiana. I only wish it were better represented.
A good rafflesiana always has a chance of winning and dark ones do very well. A little time spent in taking the picture and this one could have been a winner.
17) bobh / N. Predator
Certainly one of our best and most consistent competitors bobh does it again with a very nice Predator lower. All you young urban growers ….. take a lesson from Bobh. This was one of the dream hybrids of the last decade and nothing about the plant has changed. It is, however, beginning to feel a bit "2000 and late" these days.

18) melson / N. x Hookeriana
It seems that whatever ampullaria apis has ….. melson has a hooker to match. A very nice entry. Who's collection do I envy?

19) leilani / N. Pastoral NN4691124
20) jeremiah / N. edwardsiana
BOOM! Jeremiah drops the eddy! I guess we have this to look forward to every six months from now on.

If you can't beat them …… join them! ;D
_________________________________________________
PLANT OF THE YEAR
mannyherrera / N. alata x maxima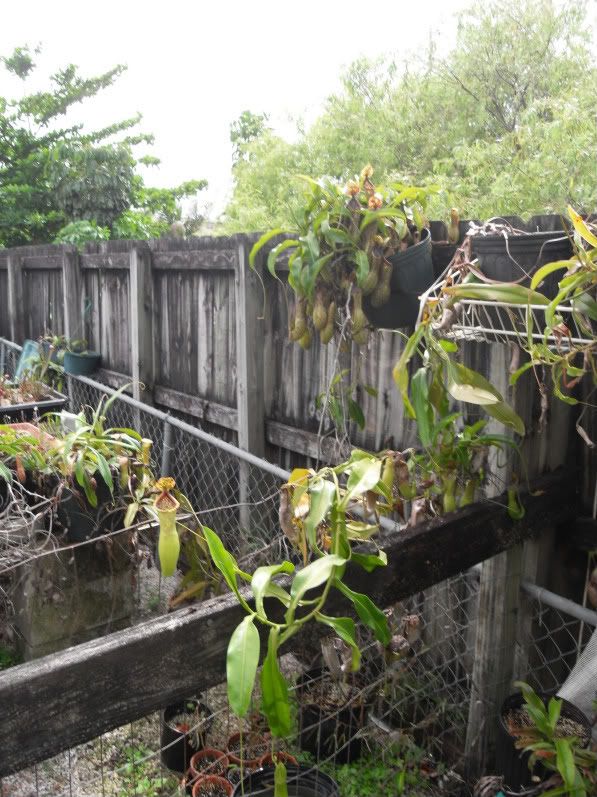 This entry has two things going for it in my book …..
First, I love Manny's growing techniques! No misters, no shade cloth, no special planters or other "hoity toity" BS. Just a plastic pot ( … the cheap kind) with probably very little media stuck into an old appliance rack and hung over a back fence. Unlike those spoiled, sweater-wearing, bow on their head metro-sexual-Yankee-poof-dogs from up North Manny's plants are good old hounds that hunt for a living. While their northern cousins live in little box houses lined with carpet remnants, cooled with air-conditioners and appointed with monogramed food and water dishes these dogs of Manny's are housed outside in a cyclone-fence containment, itself contained behind a much larger wooden fence ( …. just in case), where they eat and drink "what get".
The other thing I like about this entry is the species combination: alata x maxima. This primary hybrid has been around since about the 70's and is totally under appreciated. I grow one myself and it has always been very rewarding. Not only is it vigorous and adaptable grower it also makes great pitchers. Manny's plant looks to be particularly productive with maybe 25 or 30 nice pitchers from a number of growth points. Really full and really nice even if it could use a little grooming.
william9in / N. x ventrata
N. x ventrata is perhaps the most common and easiest of all Nepenthes to grow and when grown outdoors, as with william's, it can make a massive jumble of vines and pitchers. It may be common but it looks very nice in william's back yard.
leilani / N. Fredersen NN2370538